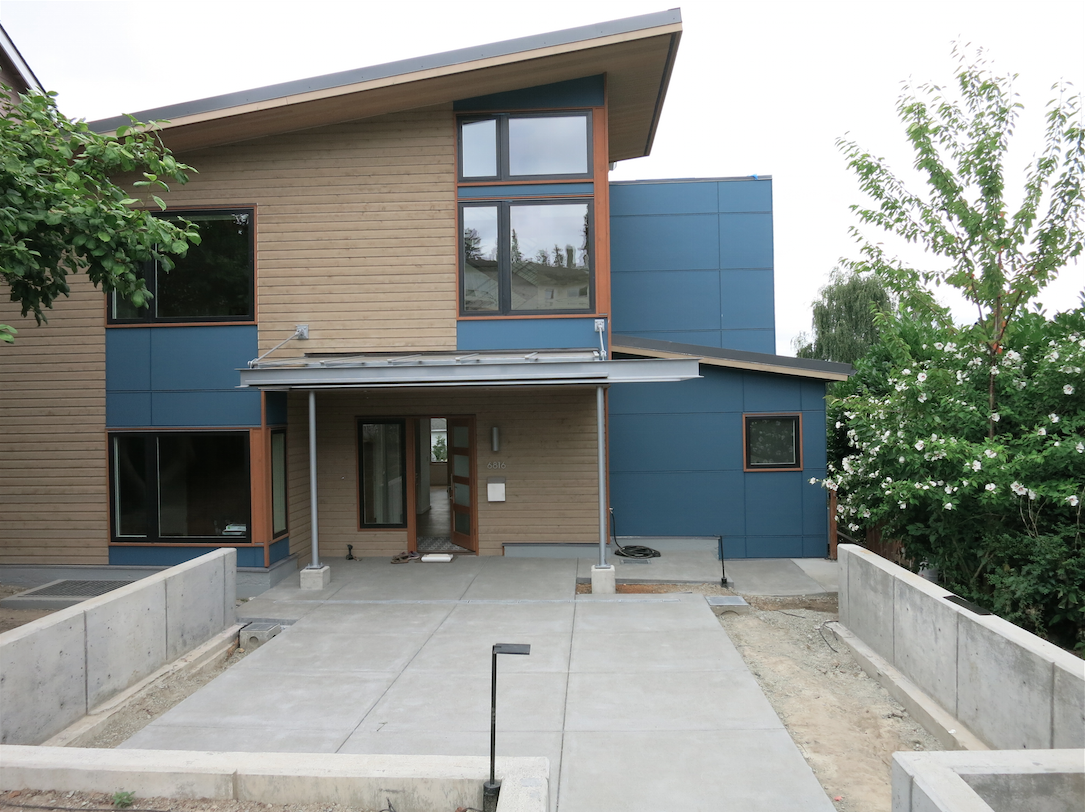 Continuing in both architect and contractor mode over these past few months, construction has been moving right along. An army of carpenters and subcontractors has plied their handiwork on the house, and we're now finally wrapping things up. These photos were taken during the "punch list" walk-through – a thorough interior and exterior inspection with owners participating, generating a list of any and all items that need finishing or tweaking.
Except for landscaping to be installed, the exterior is complete. With the addition of plantings, the front porch and "outdoor living room" will be a welcoming addition to the home! The stained cedar siding offers a preview of the warm undertones inside with the wood paneling throughout the house. All windows are framed in cedar for a pop of color to complement the blue paint.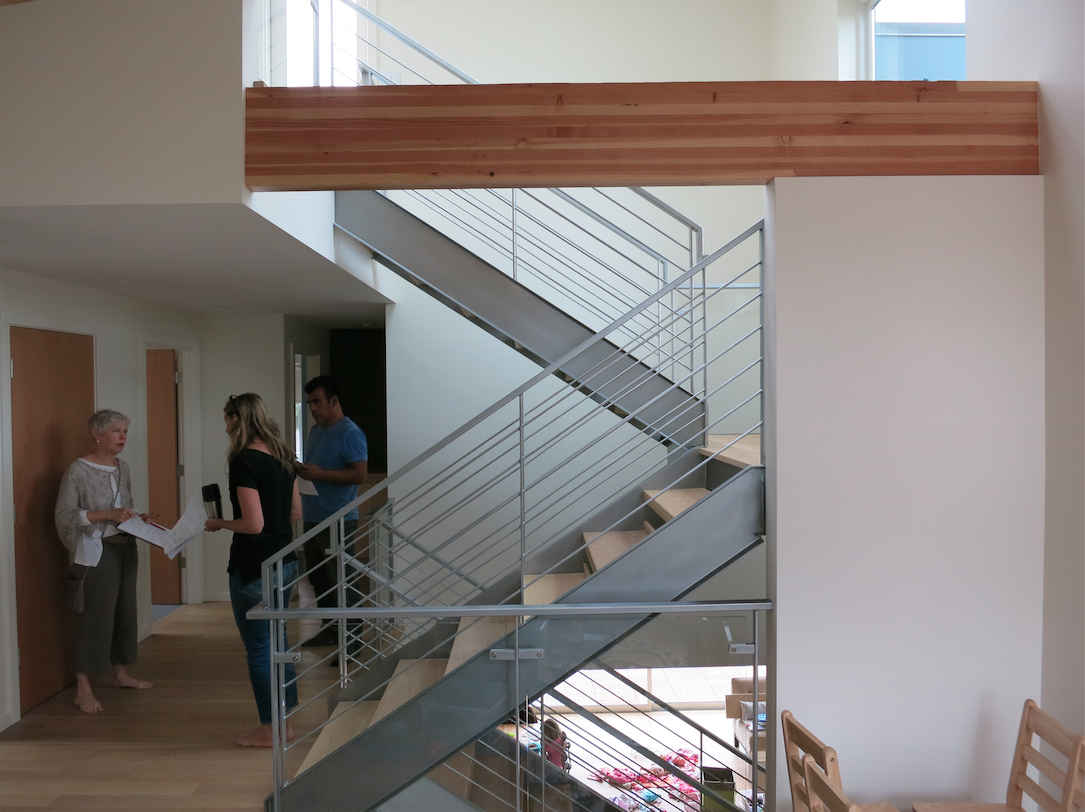 As we noted in our previous blog, Fire Works Forge completed three sets of interior stairs and one for the exterior of our Big View House, all with custom rail and tread design. The central circulation column allows the house to be naturally lit and keeps it well ventilated, but it also becomes a focal point that the household revolves around, connecting public areas on every level.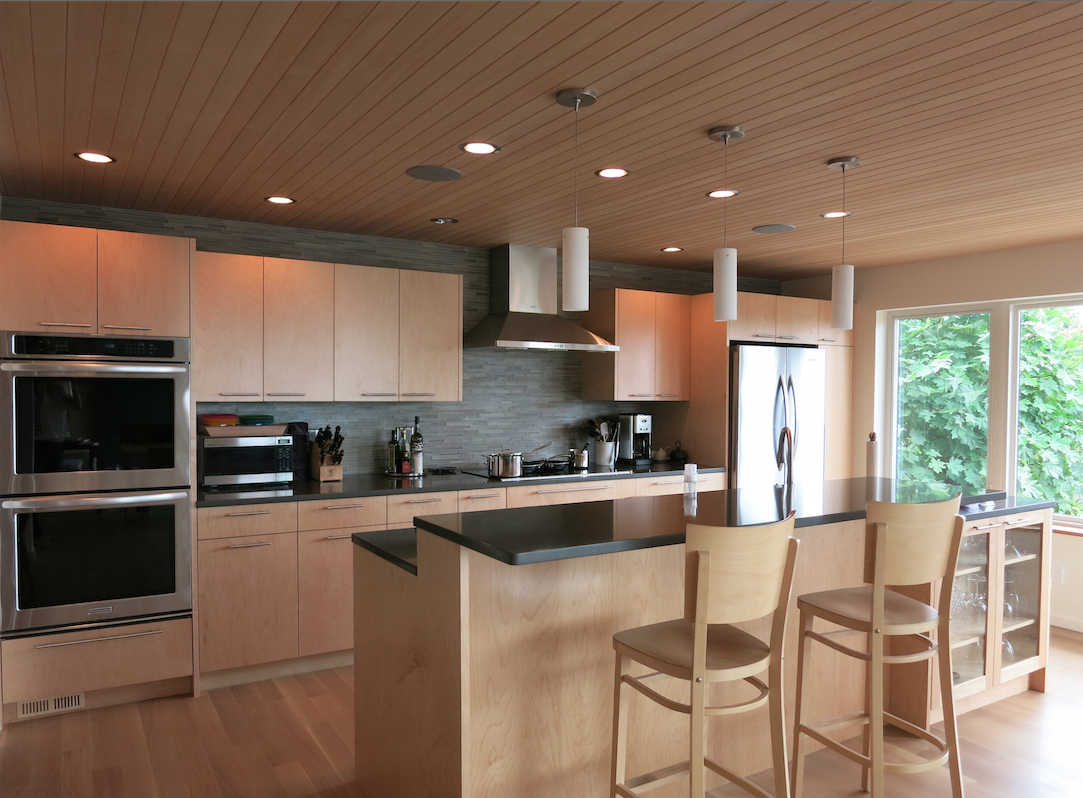 Our subcontractors have been busy: all cabinets have gone in, hardwood flooring, countertops and tile have been installed, grouted and sealed, and finishing touches on all of the hardware are being completed. In the kitchen, the long breakfast bar is offset by a glass tile backsplash just above the sink, and the same tile continues all the way up the appliance wall. Similar tiles and stone selections are to be found in the bathrooms. Our owner has been very enthusiastic in selecting materials, finishes and paint colors throughout this process; she's had a ton of fun with this, and we're all impressed with how her selections provide continuity and a sense of elegant order throughout the home. It's been a very rewarding collaborative experience for all!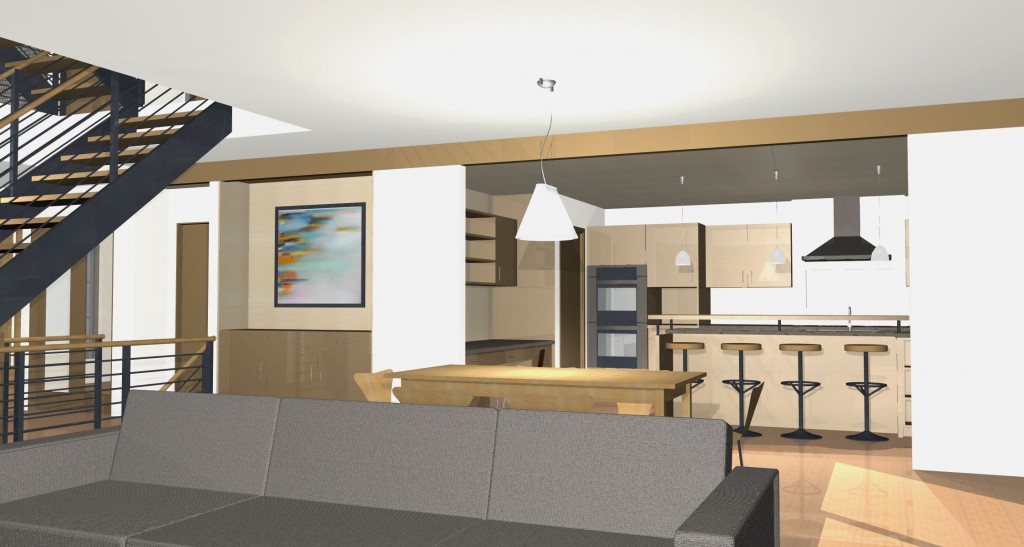 Bringing back one of our renderings from the schematic design phase, it is always fun to compare the design to the actual outcome and it's great to see such similarity. As architects leading the design-build process, there are endless opportunities during construction to inform how a detail is executed, ensuring that the finished product is exactly what we're all expecting.
Below is a site sketch working out a stair tread detail, next to the actual result. No weld marks on this handrail either!
The owners have recently moved in and are just beginning to reorganize their belongings so we're looking forward to seeing a lot more furnishings, photos, coats and shoes, and everything that makes a house a home in the next few weeks. We're always lucky to have such great clients to work with, enabling such a beautiful end result. Watch for "finished" photos of this home in the months ahead, and for our next project to come to the CTA blog!
---
Big View House #1: Scope and Potential
Big View House #2: Schematics and Modeling
Big View House #3: Permitting
Big View House #4: Construction
Big View House #5: Finishing Touches