As we are all confining ourselves to our homes in this very uncertain time, we are having discussions among ourselves at CTA about how it feels; what are each of us doing to not succumb to "cabin-fever" – whether it's sharing space with others 24/7 or fighting off isolation. How are our homes holding up with this intensified requirement to sustain and support our needs. We talk about this because we're architects, but also because we're struggling with it just like everyone else!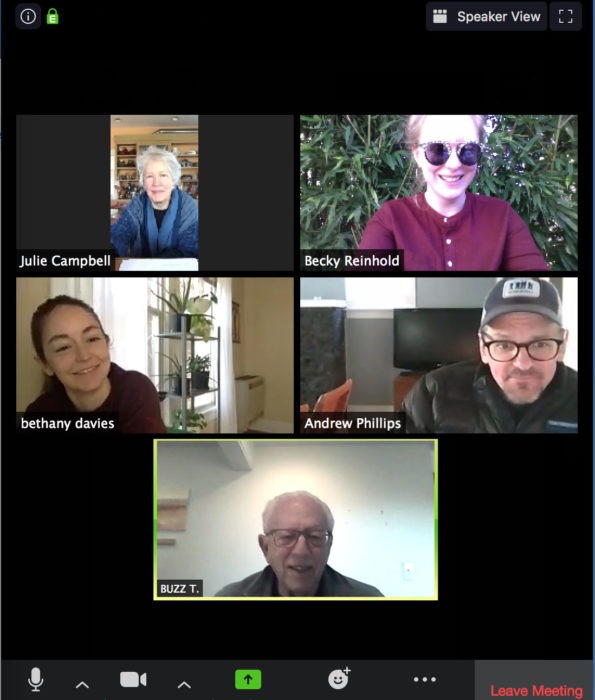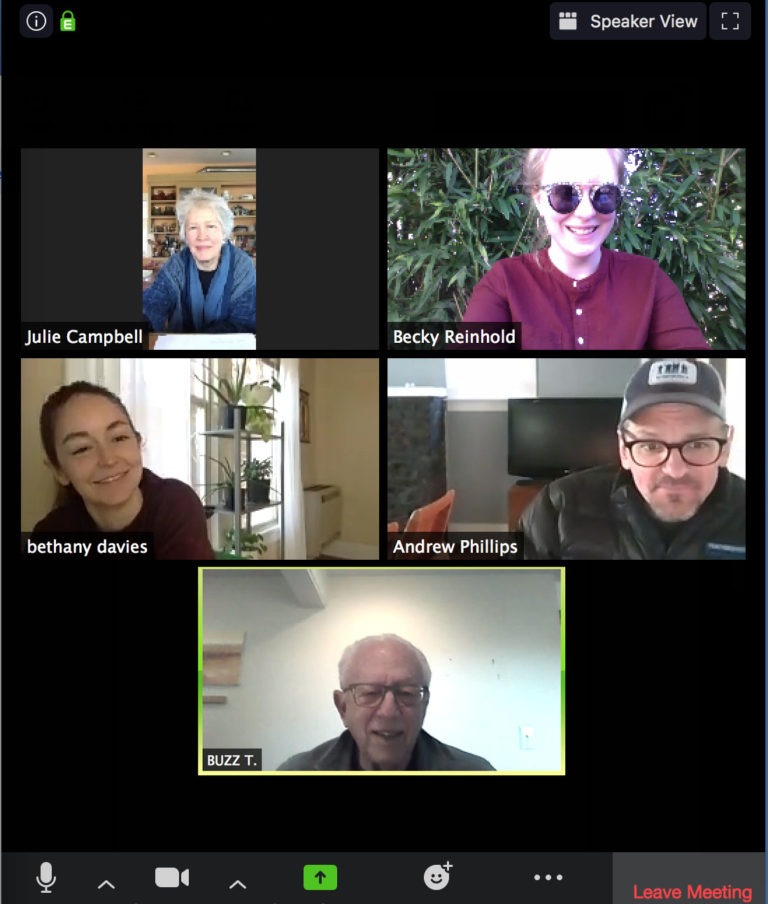 In our now-regular ZOOM (virtual) staff meetings, we share tips on keeping ourselves upbeat: getting outside for a refresh more than we normally would do when we worked at the office, staying in touch with others, finding moments of humor or connection in new ways….all the tips we've been reading about everywhere. But how does one's dwelling play into this?
As we think about our own spaces, we come back to the elements of home that we've always believed should be front and center in any home design: connection to nature/outdoors, daylight and sunlight to make interiors luminous, a range of spaces -from large ones for communal gathering to small nooks for private time. Now that we're confined to our dwellings, these elements are more critical than ever so we're paying a lot more attention to their quality and value – and where we actually want to be!
In this blog, we share our thoughts on this new working norm; what we've discovered about our personal dwellings – where we gravitate to and why. We'll also share little tips on how each of us is getting through this crazy time! We're all looking forward to getting back together in the office, and appreciating our community with a renewed outlook on what's truly important.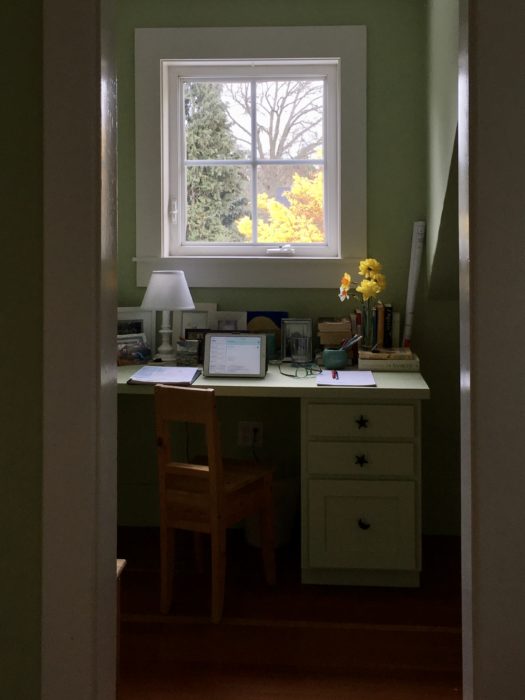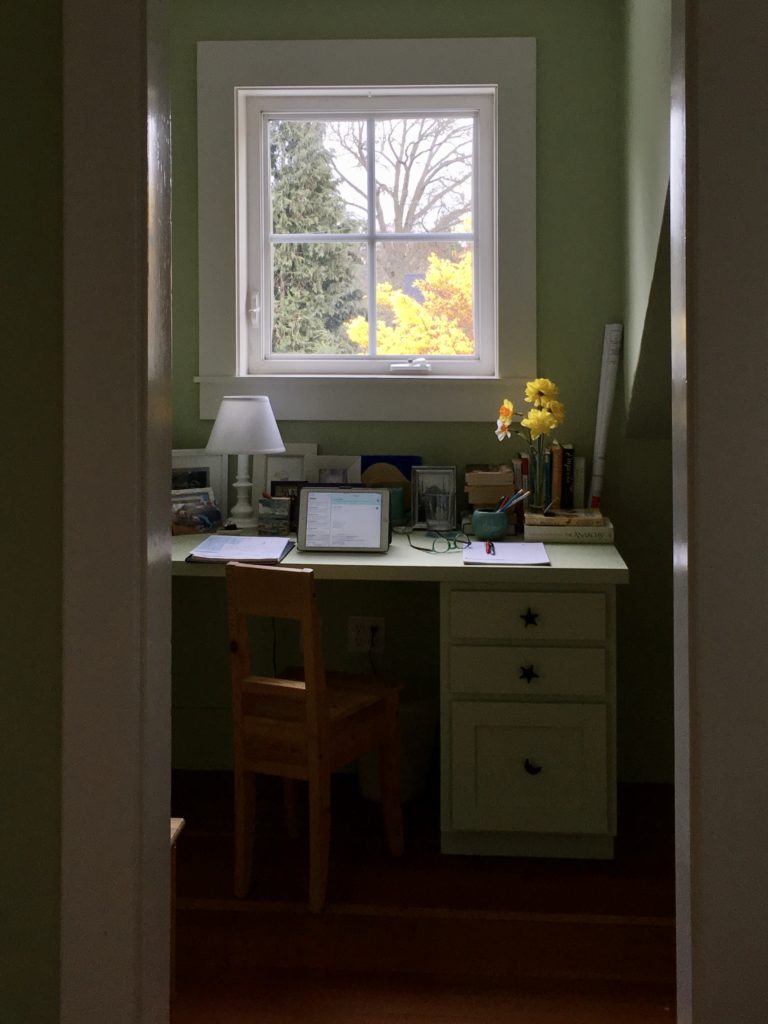 Julie: I was surprised to be drawn to my (grown) son's tiny closet alcove where there is a simple built in desk that gets lovely morning sunlight, and I can hear birds in the tree outside the window in their spring mating frenzy! This is where I've moved my office to. It's tiny, cozy, includes a view into the budding foliage, and for some reason – maybe it's the spring green colour of the walls while Spring is bursting outside that window – I feel creative in there!
BIG TIP: for not getting distracted when working at home these days – NO looking up the latest news while on my computer all day. Limit that addiction to morning coffee and end of the day!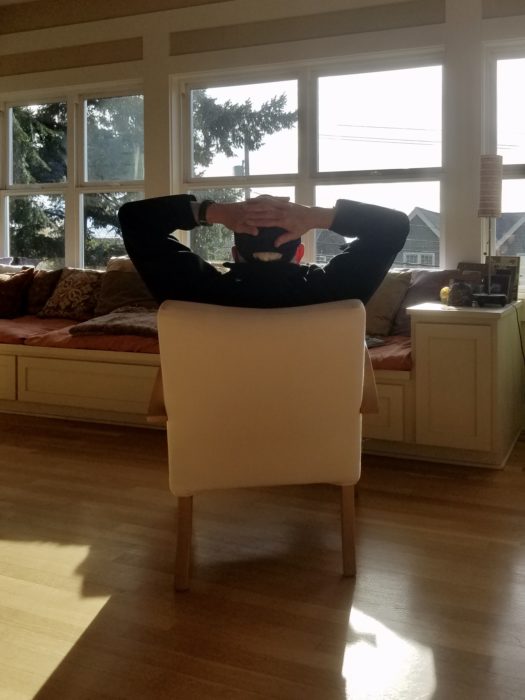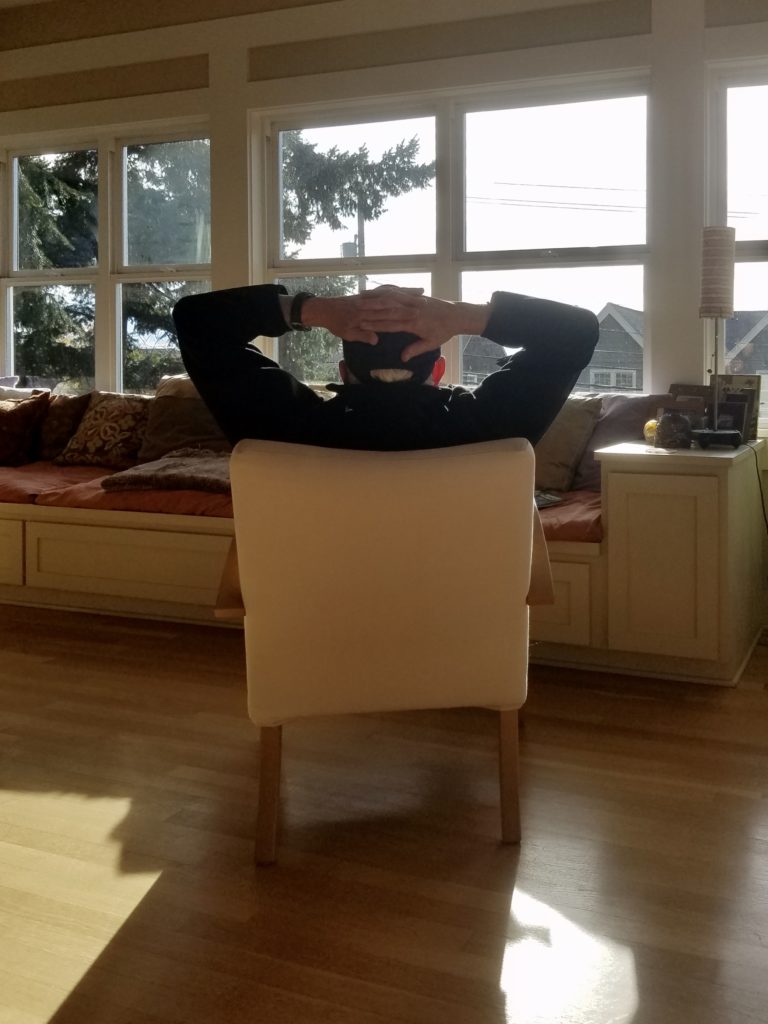 Buzz: When working from home, I enjoy taking a break in the sunshine. Having windows oriented so that they bring in not only natural light, but also direct sunshine, is important in our designs. In addition to allowing sun baths, properly oriented windows can be used as part of a passive solar strategy. We suggest using "low e" windows and solar shades to reduce fading of interior materials, while preventing unwanted solar heat gain, maintaining privacy, and still allowing transparency to the outside!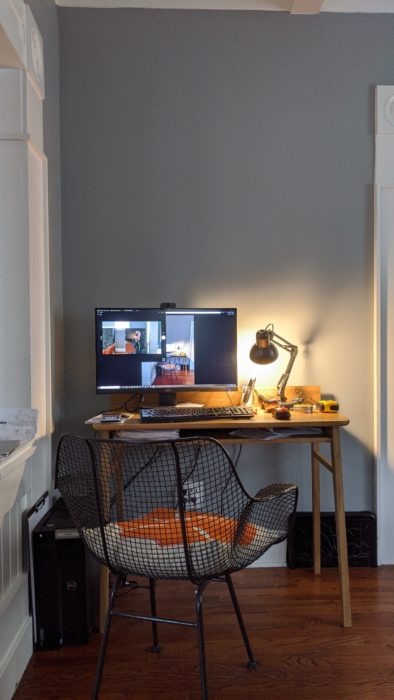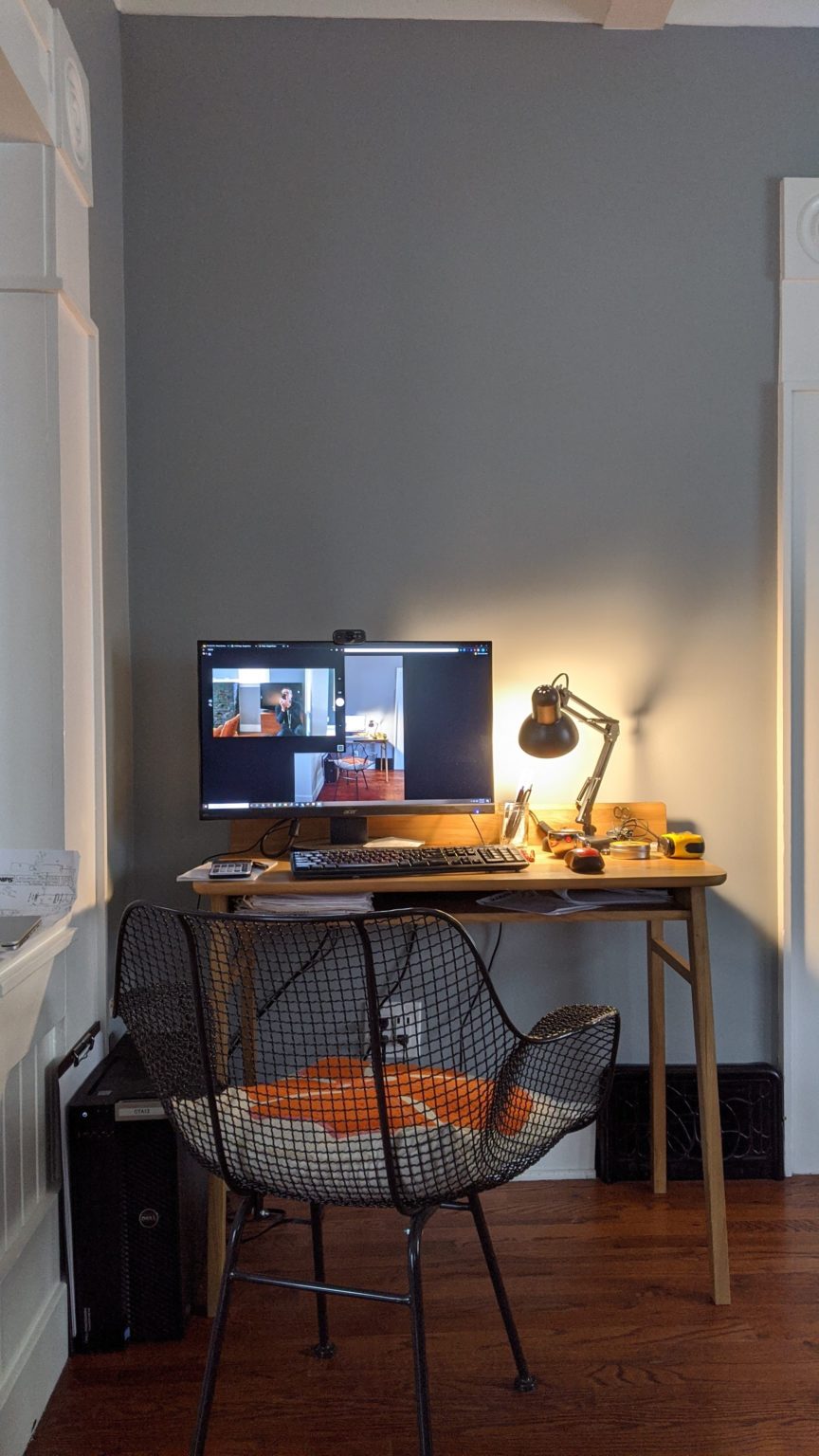 Andrew: My quarantine office is a corner of the living room. Very much in the direct center of the main floor of our home. I'm constantly reminded of the shortfalls of the house: it's cold, dark, noisy; and I'm reminded of all the projects on our to-do list.
This "living room" has always been the center of so much activity in this 110 year old house, and yet it now serves as an office. The builder and the designer of the home would have never considered that this house would one day have a workstation, keyboard, mouse, monitor- a modern day office on a 2' x 3' desk, tucked into the SW corner of the living room.
This space was designed as a gathering space, a space to join around the cozy fireplace. A space that a family could share holiday remembrances and so much more. Houses now must accommodate so much more flexibility within their spaces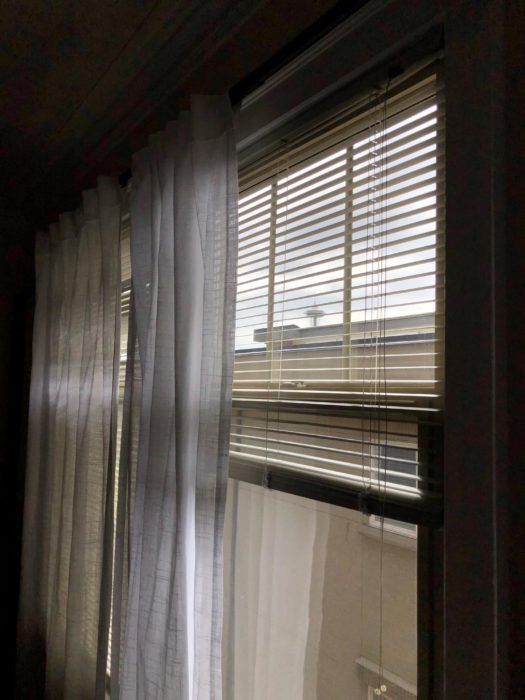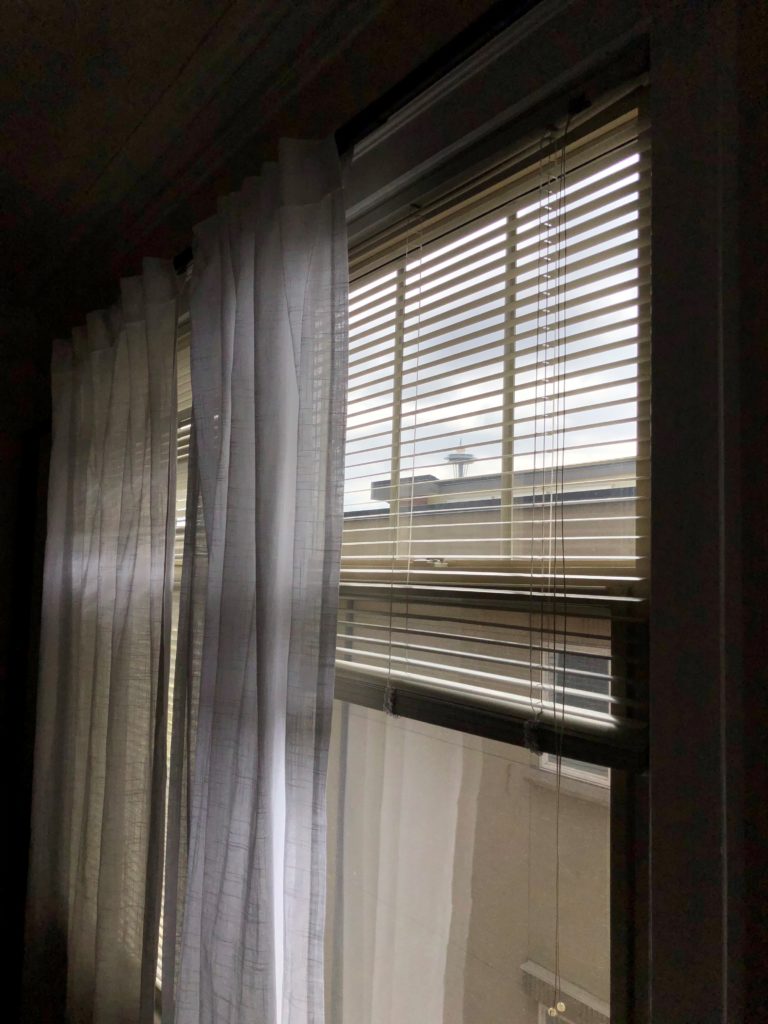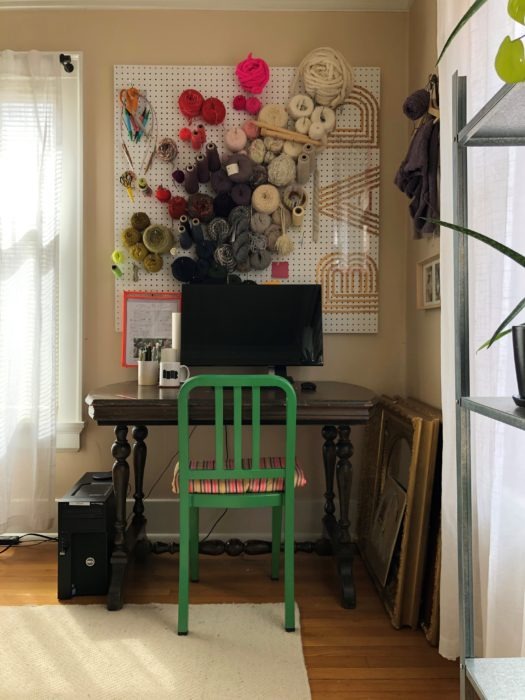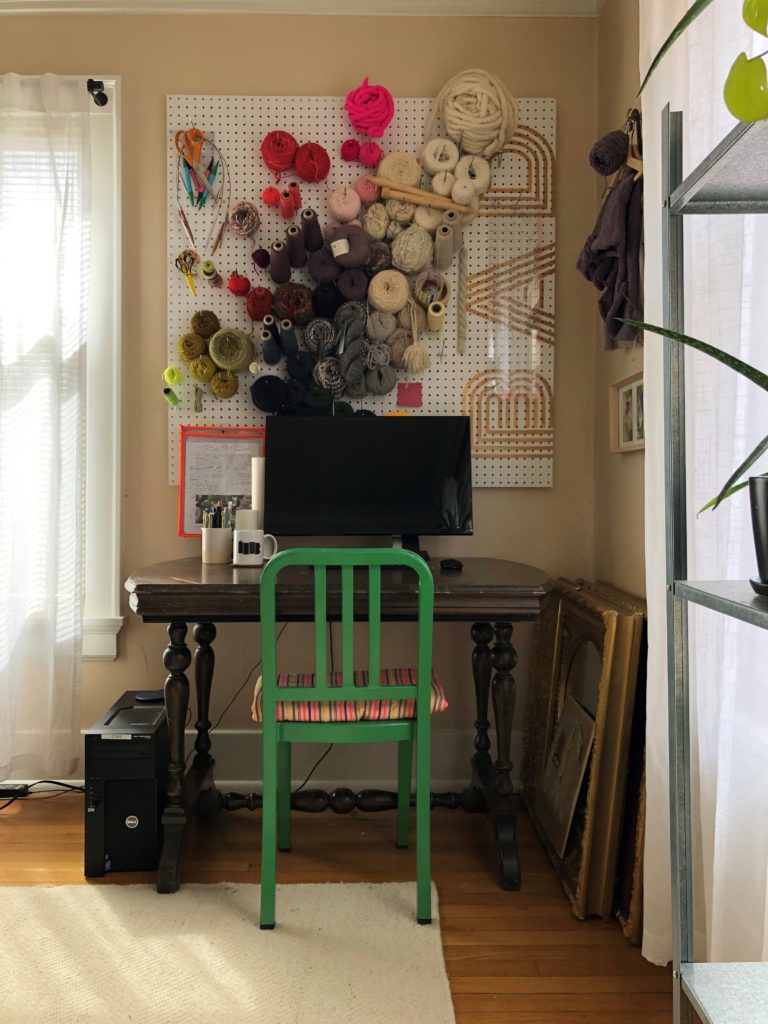 Bethany: I had a small 'home office' already set up in my place. So, when we began working from home last month my knit station became a computer station, with just enough space left to sew a few cloth masks. Just out the window to my left is a peek-a-boo view of the Space Needle. Unsightly but ergonomic seat cushion not pictured.
Overall, my little home is light-filled and pleasantly cozy; I appreciate the quality and craft of this classic old walk-up apartment building.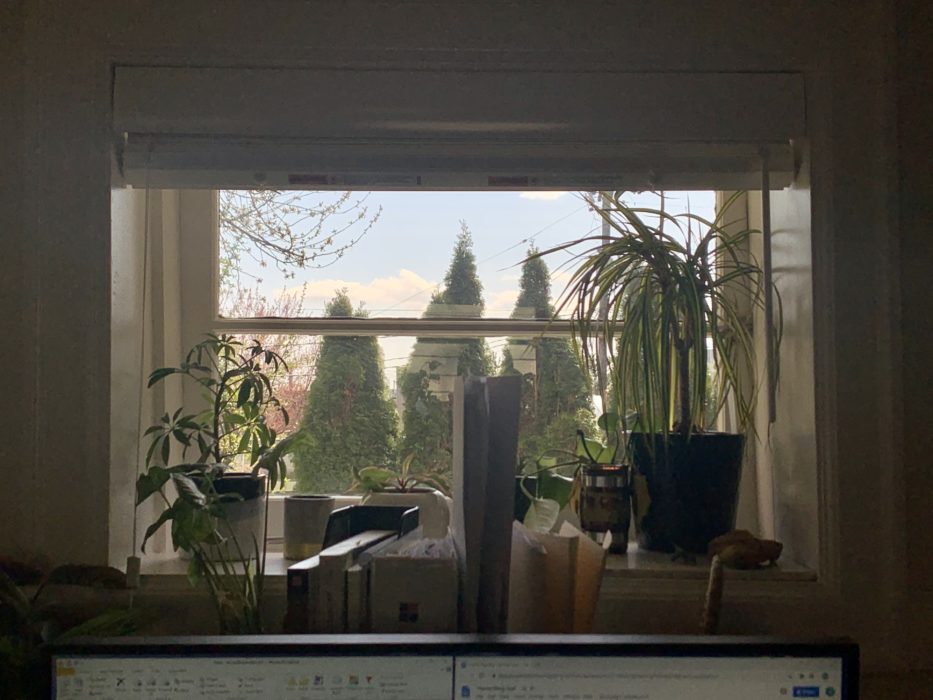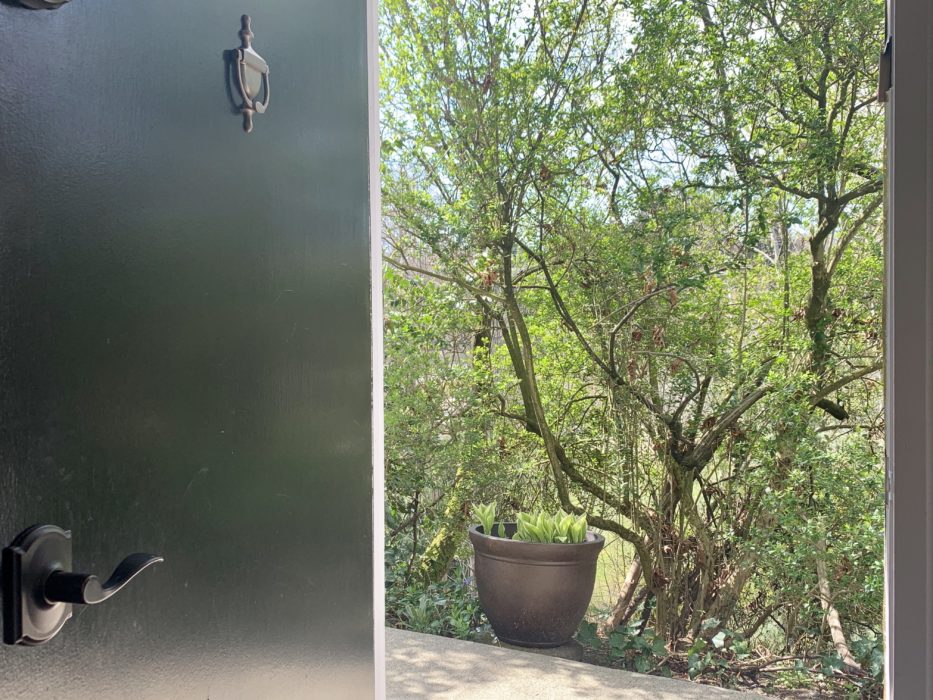 Becky: In early autumn I moved into this apartment from the apartment directly above it for various reasons. This forced time at home has actually helped me to learn to love this little ground level apartment with tiny windows and a ceiling I can touch without stretching. The familiar views are just framed differently for me, offering a new perspective and relationship to my surroundings. It is quieter down here and much cozier and on nice days I can sit with my door open to let in the much needed sunlight and fresh air!