You may have heard about a recent change to the Seattle zoning code that will place new restrictions on the size of homes in our city. This new regulation comes into effect March 1 2020, and applies to additions to existing houses as well as to new construction.
We're getting a lot of calls wondering what this all means, so here's a quick and simple summary of the main points, including details on the time frame for implementation. Be warned!….it's coming up quickly!
What does FAR mean?
Floor Area Ratio (FAR) is a way to regulate the size, or volume, of a building on its site. More than just the footprint on a lot, which will continue to be governed by existing lot coverage regulations, the new FAR regulation of .5 stipulates that the total square footage of a new house may not exceed 50% of its lot size. This includes all the above-ground floors of your house, including exterior wall thickness, with an exception for basement area that is 4ft or less above grade. To give an example: if you have a 5000sf lot, the maximum size of all structures on your lot, (including garage, although the first 250sf of an attached garage is exempt) cannot exceed a total of 2500sf. If your basement is 4ft or less above the ground, you get that square footage free. If your lot is less than 5000sf, you are allowed a maximum of 2500sf. There are some exceptions, which we'll elaborate on below.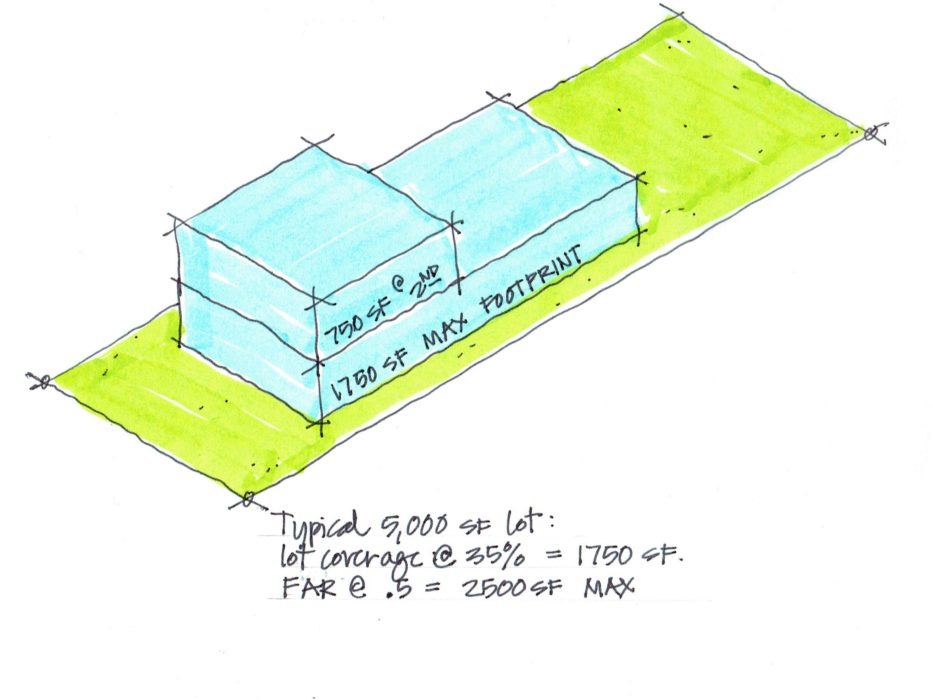 What is reason behind this FAR rule?
Seattle wants to restrict how big houses can be to stop the current proliferation of "McMansions" that are springing up in our neighborhoods. This FAR regulation was part of the recent easing of restrictions to our D/ADU code, allowing for bigger and more Accessory Dwelling Units – backyard cottages and granny suites – on all single family lots throughout the city. (See our recent blog on these new regulations) Instead of bigger single family homes, Seattle wants to incentivize the construction of affordable housing in all neighborhoods, so the square footage of D/ADUs does not count in the FAR calculations on your lot. To continue the example above: on that imagined 5000sf lot, your primary residence might be a maximum 2500sf, but you could also build an attached 1,000sf ADU, AND a 1,000sf detached ADU (DADU), or two ADUs, as long as you don't exceed the allowable 35% lot coverage restriction.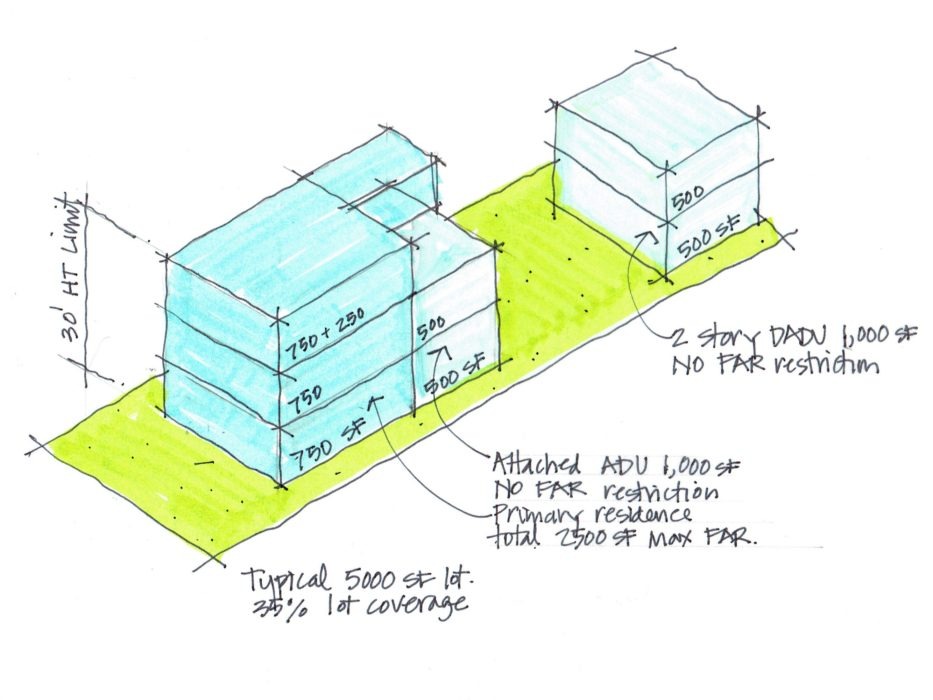 How does the new FAR rule apply to additions to existing homes?
As they currently exist, existing houses are grand-fathered in to compliance. However if you plan to build an addition to your home, you are restricted to the new FAR, or to a 20% one-time in increase in size – whichever is larger.
When does the new FAR rule come into effect?
If you are building a new home, or adding onto your existing home in Seattle, and you want to build more square footage than would be allowed under the new rule, your building permit application INTAKE must be approved by March 1 2020. Please be aware that the building department (SDCI) is VERY backed up; at this writing, soonest appointments for a permit intake date are being scheduled for December.
There are a few other exceptions to the new FAR rules which are specific to smaller lots, and to sloped lots, but which include more information than we can easily describe here.
If you're considering building new or adding to your existing home in the near future, please don't hesitate to give us a call. Our staff is up-to-speed on the regulations, and can shepherd your project through permitting, be it pre-FAR or later! We'd be happy to help you!
For more information on the new FAR rules, which were included included in the legislation for Accessory Dwelling Units, councilman Mike O'Brien has posted an informative update on ADUs and FAR. For the specific code related to FAR, see section 23.44.011 of signed ordinance 125854.
AADU
,
Accessory dwelling units
,
ADU
,
Backyard Cottage
,
DADU
,
FAR
,
Feasibility
,
Floor Area Ratio
,
granny suite
,
McMansions
,
mother in law suite
,
Residential Architecture
,
seattle adu
,
Seattle DADU
,
Seattle Land Use
,
Seattle residential architects
,
Seattle residential codes
,
seattle zoning
,
single family zoning