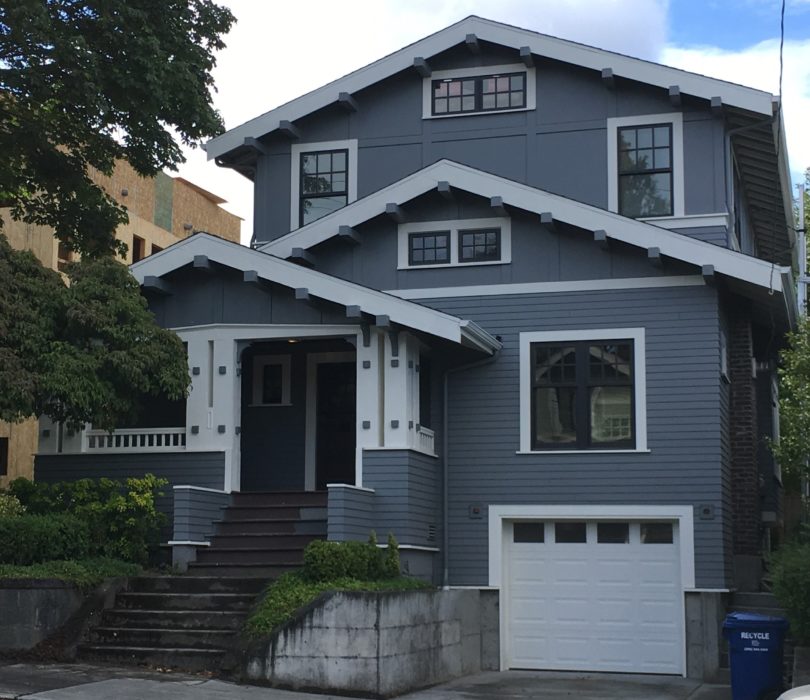 As our Queen Anne Craftsman project is finishing up, we thought this an opportune time to write about what the closing days of a construction project look like. The job site is usually a pretty intense environment during these last weeks, so if you're the owner, knowing what to expect may help you keep your cool while navigating this transition!
It's an exciting time for the home owner of course; after many months of planning, and many more months of the highs and lows during construction, and money flowing through your hands at a breath-taking rate, to see the day on the horizon when you'll be moving in is a thrill! It's equally exciting for the contractor; after many months of planning and many more months of managing an army of people coming and going, and money flowing through many hands at a breath-taking rate, the final days of powering through are a rush!
Here's a very broad and general chronology describing the last few weeks on the construction site of a new home or remodel. Probably the most important take-away for a home-owner is to note when your timely participation is key.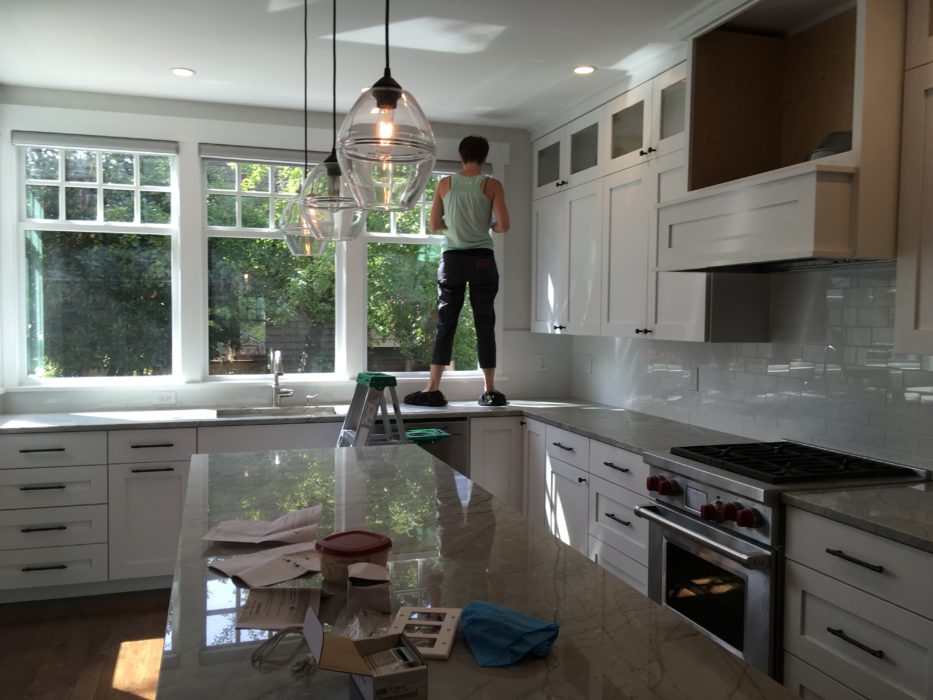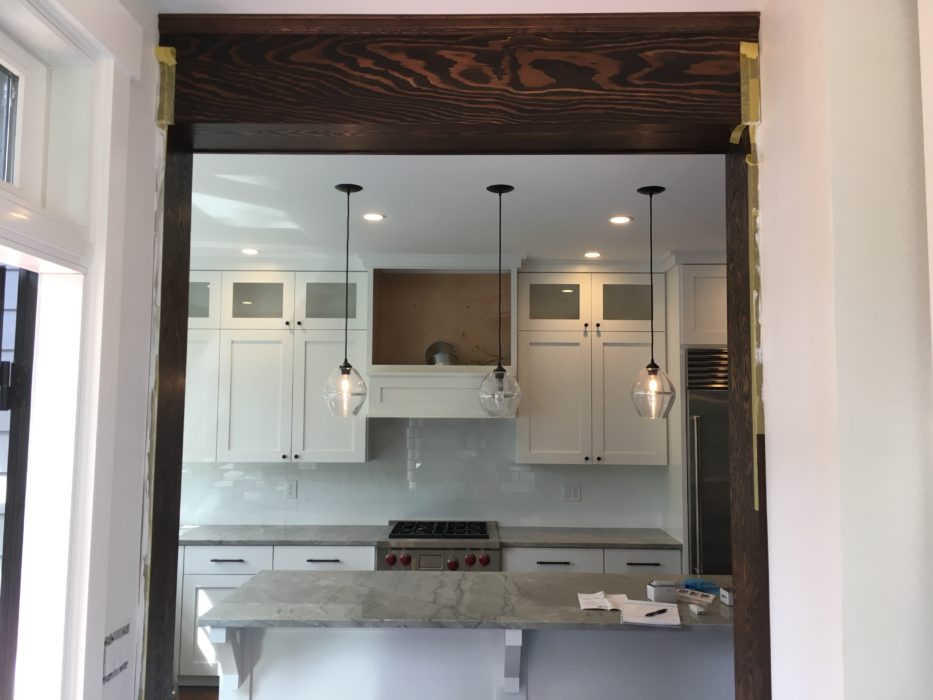 WHAT'S GOING ON AT THE JOB SITE
In general, work that happens at the end of a job is mostly around delicate finishes and fixtures that come in when everything else is finished: closet systems, light fixtures, final floor coating, carpets, window coverings. These bits of work are highly susceptible to damage, and require trim to be finished and painting to be complete. They are the last finishing touches in the house. Your involvement during this time may include the items listed here:
Blinds and closet systems: If you are ordering a custom closet system for your master closet, you should be working with your vendor at least a month prior to move-in date, and schedule the installation with your contractor. Same with blinds or drapery.
Final Cleaning: contractors usually include very basic "broom cleaning" in their budget. Ask. If that's the case, you should line-up a "construction cleaning" company; they specialize in this task. That includes removing labels from new windows, cleaning the insides of new cabinetry etc. Ask your contractor when to schedule this – usually it's best the day prior to your belongings arriving.
Final finish on hardwood floors: the last coat usually goes on at the very end, and requires curing for at least a day – or more depending on the product used. This means NO WALKING on it! So be sure to know when it's being scheduled!
As the last work is nearing completion, you will undoubtedly find that there are numerous items around the house that are not quite finished. There may be a few things missing, like cabinet pulls, or a cover over the water shut-off, a plumbing part, areas missing paint, etc. The contractor probably has a long list of these items on their radar, and probably still has a crew of one or two working down this list. NOW IS THE IDEAL TIME FOR A PUNCH LIST WALK THRU!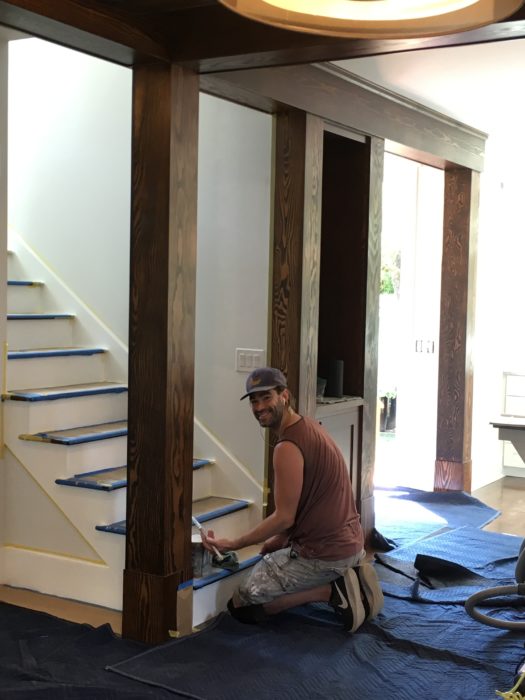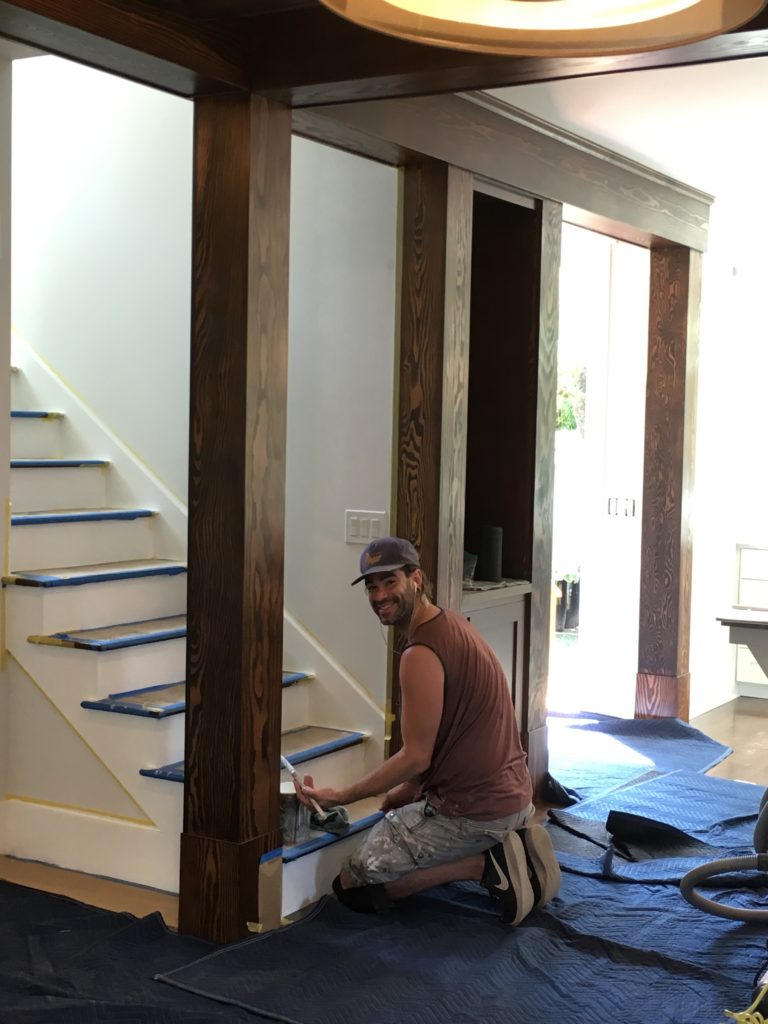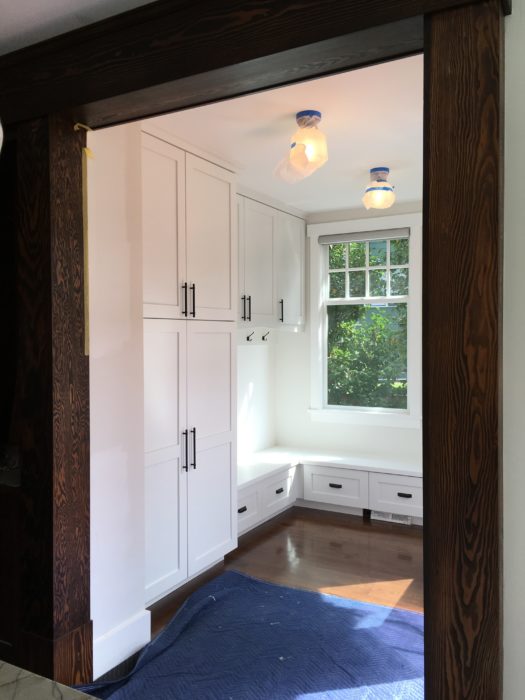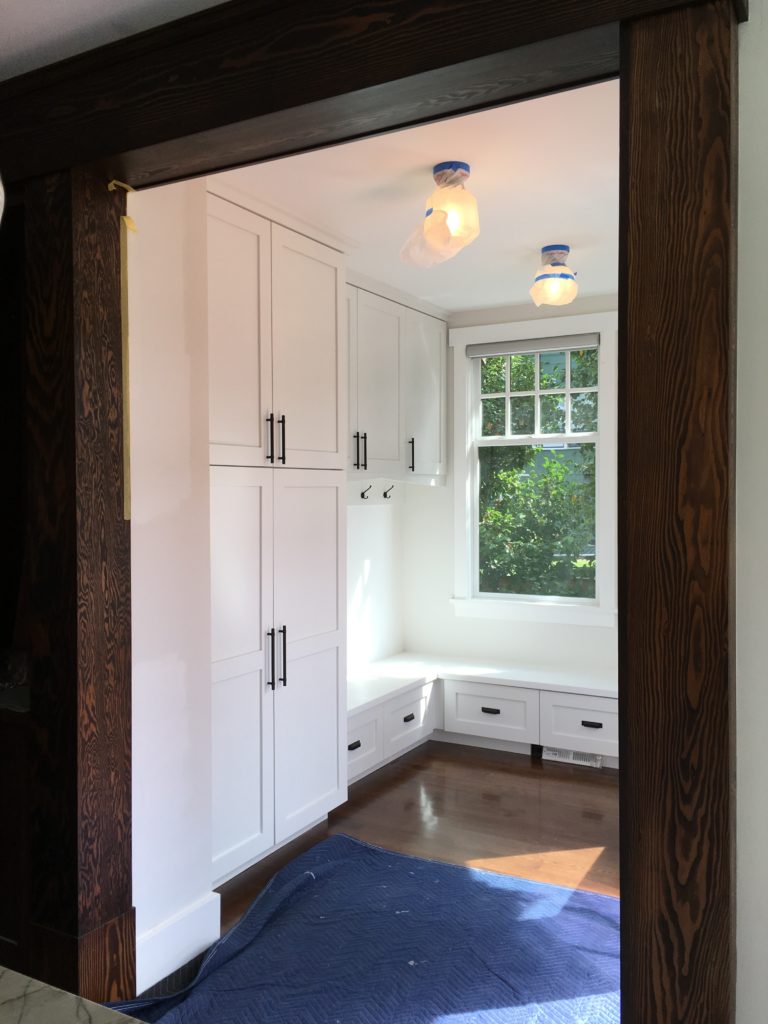 THE PUNCH LIST
This is a scheduled walk through the house including you the client, your contractor, and your architect. You'll all walk through and around the entire house (inside and out – wherever work has occurred) looking to see that the work is up to standard and complete. You'll make a list of items that need attention; this is the Punch List. Its best to wait as long as possible before scheduling this meeting so that the contractor can get most of their list completed, and so the punch list is not miles long with items that are already on their radar. But you'll want to generate this punch list before you move in, and before the contractor pulls their crew off the job – to use their time and resources most efficiently. A few suggestions as to construction standards as you walk through the house:
Paint and sheetrock quality: typically you walk through the house with a roll of blue tape, placing little pieces wherever paint or sheetrock touch up is required. There's a manual on construction standards that states that imperfections viewed at a standing distance of 4ft or more away from the wall are to be repaired. IE you are being overly demanding if you search the walls with your nose up against it! That said, there usually IS paint and/or sheetrock touch-up required at the end of a job, and a good-hearted contractor will often provide paint touch-up after you've moved your furniture in and scuffed the new paint, so be reasonable!
Often there are a number of items on the Punch List that are there because something is back-ordered or awaiting fabrication. Be sure to have an understanding from your builder regarding what timing to expect for these items, and for completion of the punch list in general.
In some cases you'll want to hold back a reasonable portion of the final payment to ensure timely return of contractor's crew.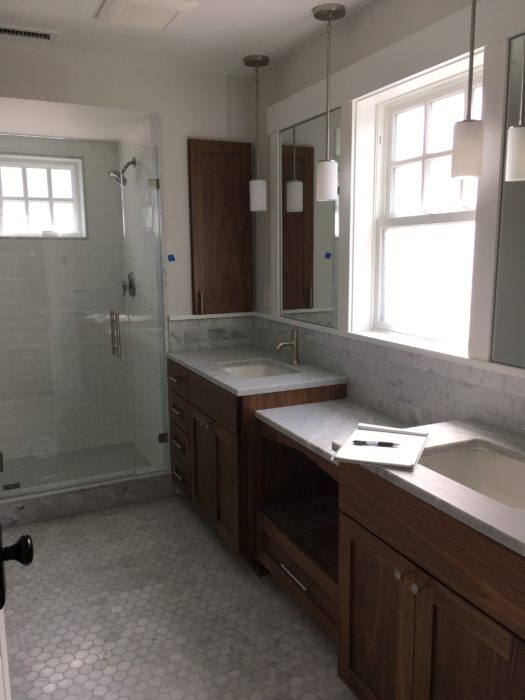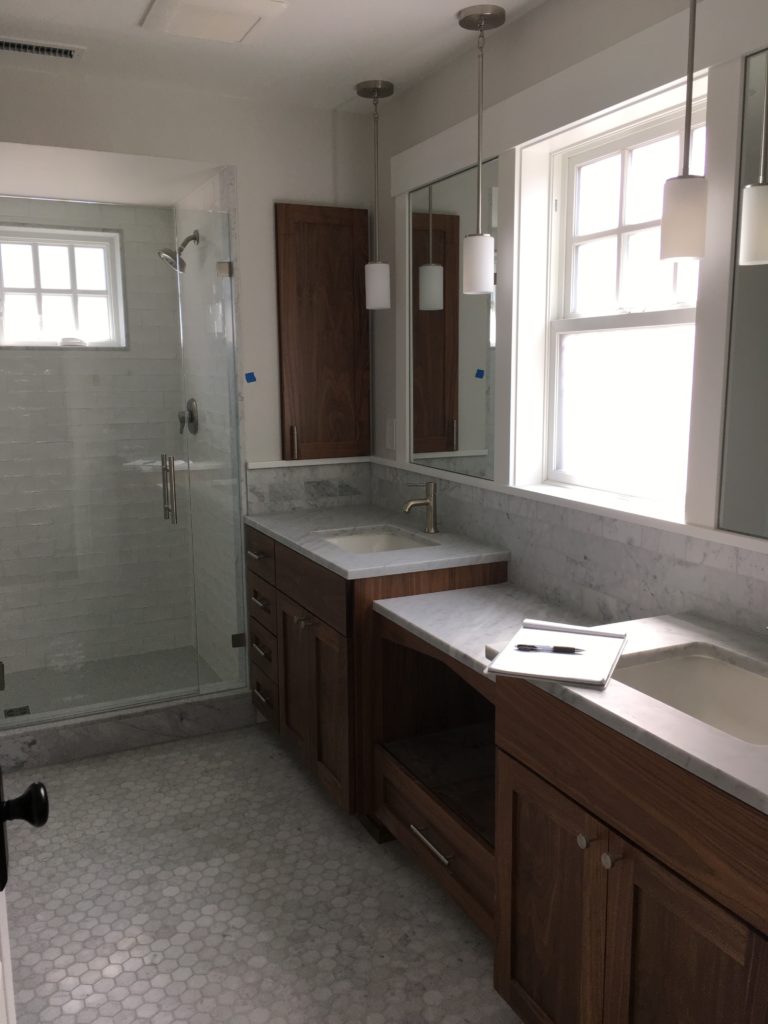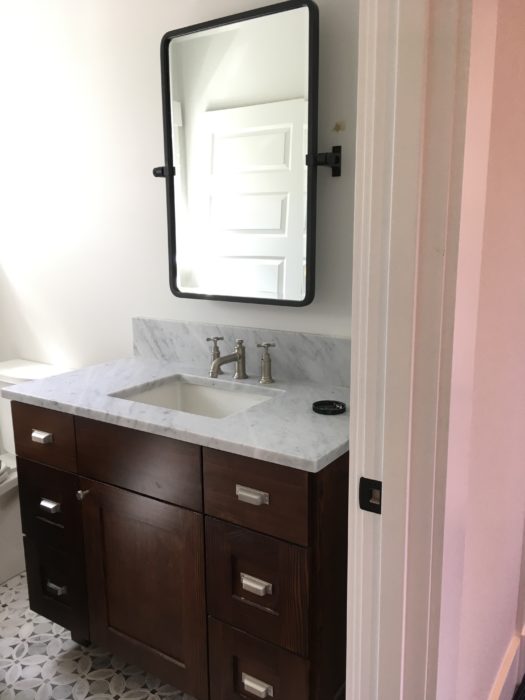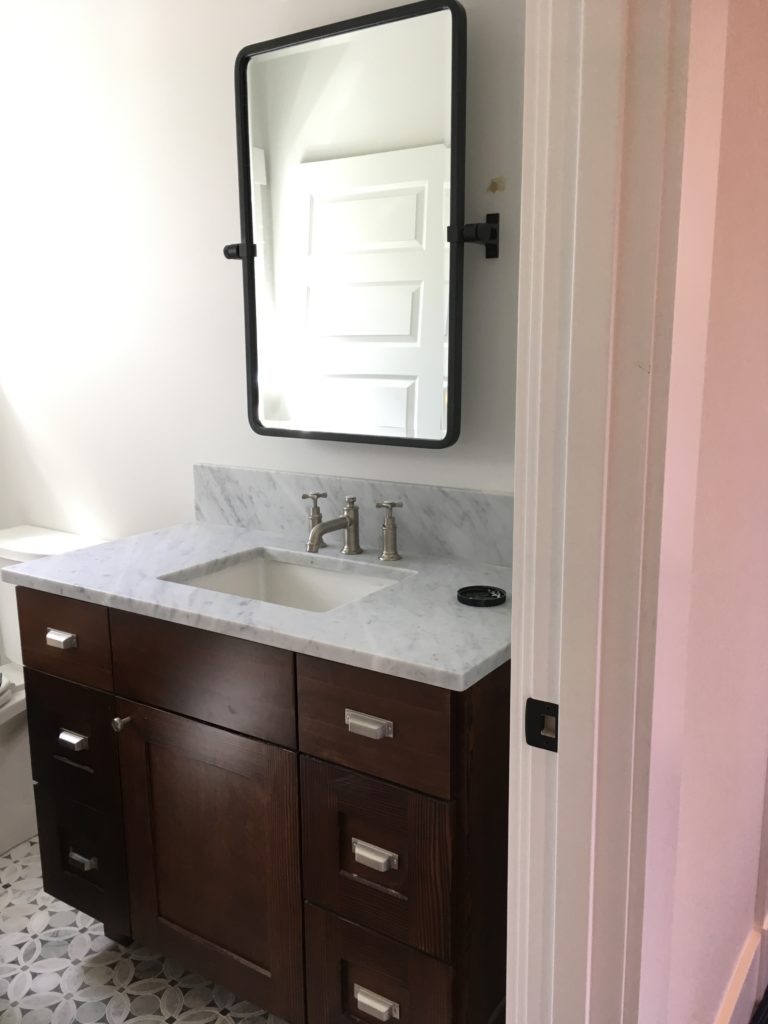 Inevitably, after your builder has moved off the site, and after you've moved in, there will be lingering tasks which seem to take forever. The reason behind this frustrating fact is that by the time the contractor is out of solid 8-hour days of work, some of these loose ends require shipment of a part, or some other dependency that they are waiting on. So it makes sense for them to bundle the tasks into one or more days when they can be most efficient with someone on site working a full day. To avoid frustration, and damage to what hopefully has been an overall successful relationship, establish clear communications and expectations of timing.
Keep in mind that your contractor makes their living on good references and word of mouth contacts, which means they have a vested interest in ensuring that you are a happy client at the close of the project. It's our belief that mutually respectful relationships among all the players on a project is the best recipe for a successful project, and that's what everyone wants. We wish that for everyone, and work hard to ensure this kind of success on every one of our projects!