Buzz-alert: "We've got a guy in Haiti!"
One of my Architects Without Borders (AWB-Seattle) design team members is in Haiti now, presenting our design ideas for a new school to the Brothers of the Sacred Heart! Conceptually, the project's layout is based on the traditional Haitian concept of "lakou". Whereas the urban Haitian landscapes are derived from the French and Spanish Colonial gridirons, here we have the more topographically determined landscape and layouts of agricultural villages and informal settlements. Such arrangements grouped families and then communities together, for security, and with central gathering spaces where shared facilities might exist, such as a well or a special shade tree. Here, in these central gathering spaces, people mingled, socialized, traded, and learned. This school too utilizes lakou, where students, faculty, and staff mingle in courtyards and exchange or debate ideas in an informal setting, which is so important for a well-rounded education.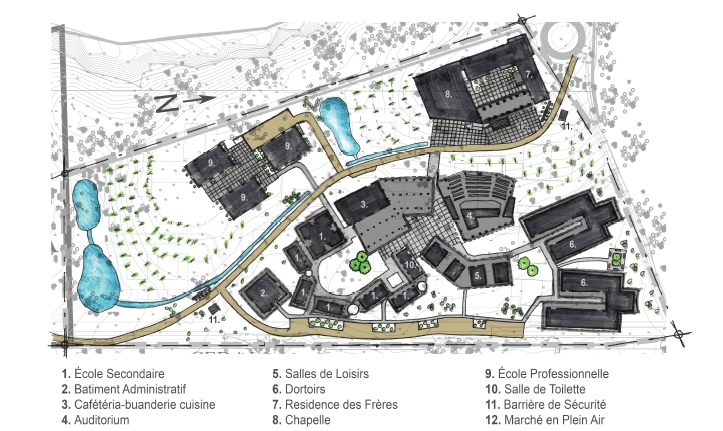 The site is dry with brush. We intend to re-invigorate site vegetation by capturing rainwater in ponds while creating stream beds throughout the site; we will capture more rainwater on roofs and direct this water into cisterns for community use. Further, we will use a type of horizontal brush layering on the slopes to capture water and runoff, creating new soil building opportunities to help prevent erosion. A site with ponds and streams will also provide areas for repose and mediation, study and appreciation.
There is ample sunlight and roof area to utilize solar photovoltaic technology to power the campus.
Here is a photo of the team on site. More updates from Haiti to follow!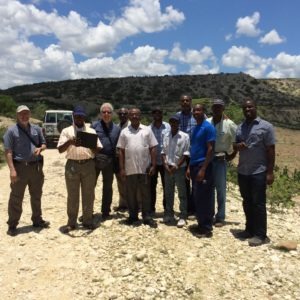 ---