Somewhere between the Stairway to Heaven and the Long and Winding Road, this real, live concrete and brick stairway lyrically connects a stately Laurelhurst residence to the shore of Lake Washington. For as long as anyone can remember, it has always been equal parts sheer pleasure and a vertical challenge to navigate. Who wouldn't answer the call of a magical-rickety-bending-heaving-twisting-winding-tree-shrouded stairway to the lake?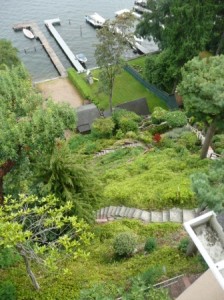 CTA Builds was called in to take care of this condition; (the stairway, not the knees!)
Of course adventurous spirits would, but aging, wobbly knees tend to complain.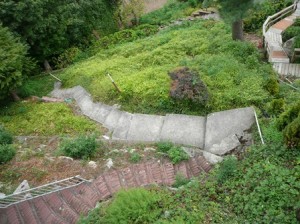 The owners wanted to add a handrail to prevent folks from falling down the steep-slope stairway, (although no one is known to have taken a tumble since the house was built in 1923), and possibly to provide elderly folks with a boost going back up. Truly, all that was required was one thing; a simple metal hand rail would do the trick. So, this unpretentious handrail was custom designed, handcrafted and installed.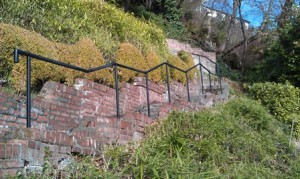 Many times, really good home improvements are not as much about elegant design as they are about elegant solutions to everyday problems. Above all else, homes and yards must be accessible and enjoyable; all the fantastic design in the world does no good if you can't get to it. Now, for these folks and their friends, a simple railing has assured them many more treks to the lake, safely down and back up again.Our guess is that they will still be climbing this delightful, and now safer, stairway when they are 99½, or so.
---