Buzz and his Seattle Architects Without Borders (AWB-S) volunteer team are now working on a new school in Haiti. The group has been studying the landforms, microclimate, building precedents, adjacent sites, and Haitian history and heritage. Their studies illuminated the deeply rooted model of the "Lakou" and its importance in the conceptual design of the campus. As a result, AWB has integrated the post-plantation Haitian idea of Lakou, or the extended and egalitarian family compound, into the design; this traditional concept is being celebrated, utilized and expanded upon.
Located west of Port Au Prince in the town of Cabaret, the school is situated on 17 acres of hilly but barren hillside just a mile or two outside of town.  The school will provide a high school or post-secondary education and vocational training for 3,000 students, with some students and faculty living on site.  See one of the site plan options they're refining: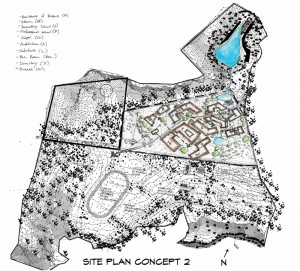 Directly from Buzz and the AWB team:
 "Our goal is to create an environmentally sustainable school and community, respectfully blended with the Haitian culture. Through this endeavor, we are hoping this school will be an accessible resource for the local community and will help educate and train young adults throughout Haiti in sustainable practices."
To meet this goal, we are harnessing the energy of the sun for power; we are capturing the rainfall in ponds and cisterns, and bringing its life into the community; we are disposing of wastes through constructed and natural wetlands. We are creating shaded courtyards and connected gathering spaces; in essence, adopting the idea of "lakou" in our design and practices, and encouraging community in the Haitian way.
 Our immediate purpose is to provide conceptual design services for the sponsoring Haitian non-profit group to aid in fundraising; it will take vision, commitment, perseverance and financial backing to see this project come to fruition. Our group is working to provide the tools necessary to visualize the project and grasp its importance.
It is all very exciting.
---