Our Unique Design Build Process
The following seven steps highlight CTA's unique process that leads to on-time and on-budget new homes and remodels. If you have more questions, you can read our complete CTA Design Build Guide, or email us for a free design build consultation.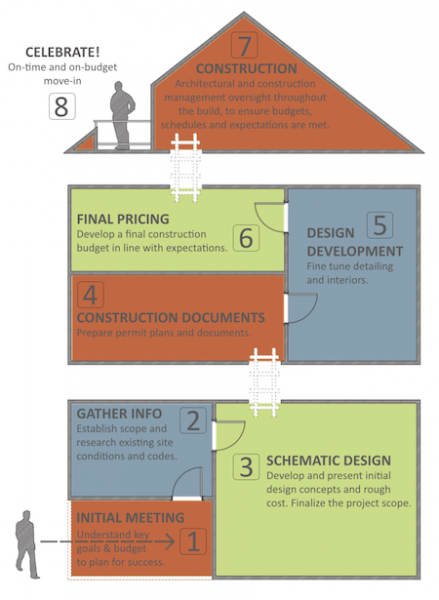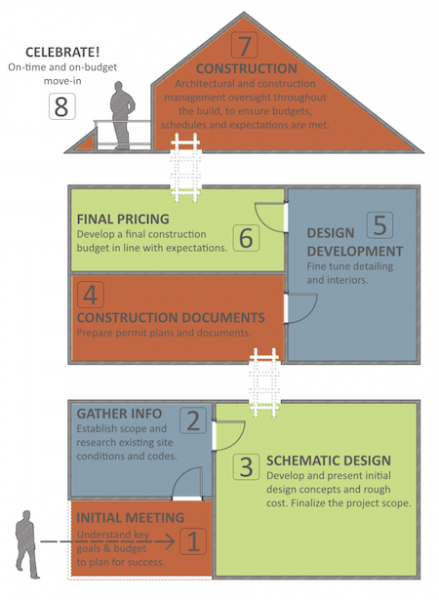 What is Design-Build?
In short, it's a better process for remodeling and building new homes. But it's thrown around a lot these days, so we hope this guide helps you better understand what exactly it is.
Design Build in a Nutshell
Design-Build is a team approach to designing and constructing a house or remodel, where all the players…the architect, interior designer and contractor… are part of the same team and working together from start to finish. People typically find it less stressful because: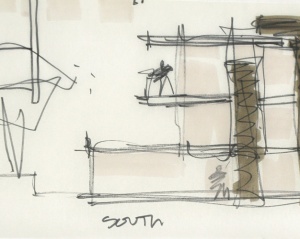 There is outstanding coordination. A design-build team bring all the necessary players together, so you don't have to find your architect first, and then later find a contractor to build your project for the budget you've been hoping for, and you definitely don't need to try and source your own materials.
You stay on budget. There's no "sticker-shock" because the design-build model ensures that your budget is an integral part of the design process and considered in all design and building decisions.
On-the-fly decisions are a breeze. If you need to change anything once the building process is underway, your architect and interior designer are still engaged with the project and can easily suggest and manage changes.
How the Design Build Process Works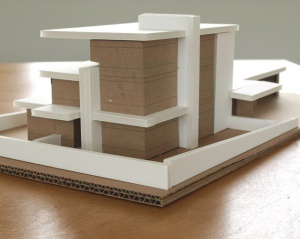 We have documented each phase of the process in a recent project, so you can click on the following links for a real-world example of Design Build! As architects and contractors working together from the very beginning of the process, we help you establish your design criteria and scope of work, and guide you in setting an appropriate budget; this is called the 
Scope and Potential meeting
.
As the project progresses, you continue to work with an architect on the team putting our years of residential expertise to work to develop the best design for your particular needs, and tailoring it all to your budget. This phase is called Schematics and once schematics are solidified we submit them to the city for Permitting. Once we have all drawings, specifications and permits in hand, we can then start Construction. As construction nears to a close, we begin to see finishes and Finishing Touches come into place – everyone's favorite part!
And here's where design-build really makes a difference: our entire team is fully invested in seeing the design vision realized in full, down to the smallest detail. Your architect is in touch with the construction process on a daily basis; our carpenters and subcontractors are familiar with and care about the level of craft that we expect. Your home is finished to the level of quality that we all envision, on time and on budget.
Benefits of the Design Build Process for Residential Homes
1. One-stop-shop
We start working with you as your architect. Through that process we get to know each other really well, and you come to know and understand our process, our entire team, our values. Moving into construction is a very easy, natural transition. The process is seamless and hassle-free for a home-owner, especially compared to the more traditional design-bid-build process.
2. Holistic perspective
During the early design phase, you benefit from the advice and perspective of our construction team members on construct-ability issues relevant to your particular project as they keep an eye on the budget. And during construction, your architect stays involved, ensuring continuity of design intentions, and keeping the "big picture" in mind right through your move-in.
3. No finger-pointing
Since all the players are on the same team, we're all equally responsible and committed to creating a successful project!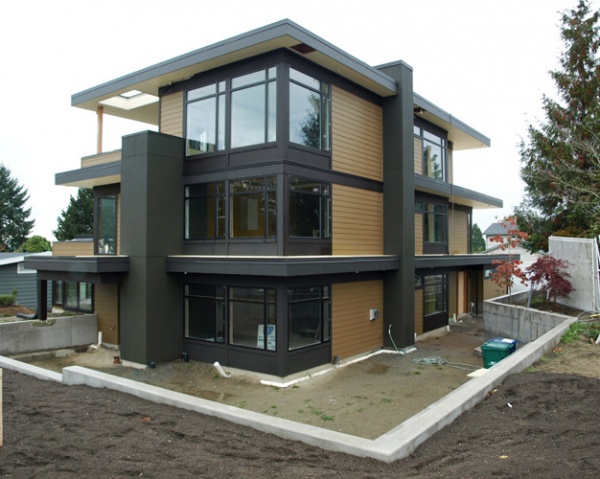 Design Build Frequently Asked Questions
1. Who protects me and advocates for me (the owner) when the designer and contractor are the same entity?
Some feel that the Design Build process lacks an owner's advocate, as representing the owner's interest during construction is one of an architect's traditional role. Our response to this lies in our main goal: to have you be so completely satisfied and pleased with our architectural and construction process that you won't hesitate to recommend us to your friends and acquaintances. That's how we've been growing our business for over 20 years!
2. Does the Design Build process prevent me from getting the lowest price because my project is not put out to bid to three contractors?
In these projects, taking the lowest price can be a recipe for disaster! An owner wants a fair price from a constructor who is known for doing great work and who will be around to take care of them long after the project is completed. Our profit and overhead markups are industry standard, and our bids and books are wide open for your review, plus if you wish, you are welcome to take our construction bids to another contractor for verification.
3. You are an architect-led design build company. What is the difference between you and other [contractor] design build companies?
Our emphasis is great design. You must have good design before you can even think of building. Many contractors offer design services, some even for free, and call themselves "design-build". The designers on staff spend a few hours with you on materials and finish selections, but their main goal is to convert your project into a construction sale as quickly as possible. There's a big difference between these models and what we offer. As architects first and foremost in our "architect-led" design-build model, we take the time to design your project with you and your particular needs guiding us at every step of the way. We spend the time necessary to make the right selections of materials and finishes so that they all complement each other. There's no formula in our approach; we aren't focused on converting your project into a construction sale. In fact we're happy to continue working with you as architects even if you wish to work with an independent contractor. Of course it's our hope that we'll be building your project – we love to build our designs and see our/your vision through to its most whole and complete realization – the home of your dreams!
4. Does having an architect on staff make my project more expensive?
Some think that hiring an architect adds costs to a project. Certainly hiring an architect will introduce design fees into the total cost of your project, but our services will lay out various options to achieve your goals and then determine which option and what scope of work will work best for you. Our design expertise will add huge value to the overall quality and outcome of your home. If you're spending many thousands of dollars on your home, spending 10% +/- to ensure even greater value is a wise investment. An architect, or especially an architect-led design build firm will ensure that the project is designed to your stated budget – so in short, it's NOT more expensive! In fact, telling us your budget enables us to design to your budget, while still affording you what you want in your house.
5. You have an interesting perspective. What's your story?
We come from long backgrounds in construction, starting with Julie's father who was a carpenter and contractor for 60 years and convinced his daughter to become an architect. Julie has worn her nail apron on numerous house projects and knows how to put houses together. Buzz was a carpenter for a design build company in New England before going to architecture school in Boston. In Seattle when we first designed projects, we noticed contractors convincing homeowners to do things differently than the plans. Although these may have been well intentioned, these changes had considerable negative impact on the projects. So we thought we should be there for the construction, to make sure our clients got what was really designed for them and what would make their projects really shine. And we love to be involved in the building process; it continues to be a thrill!
If you have more questions about the design build process